Airport Pick-Up Service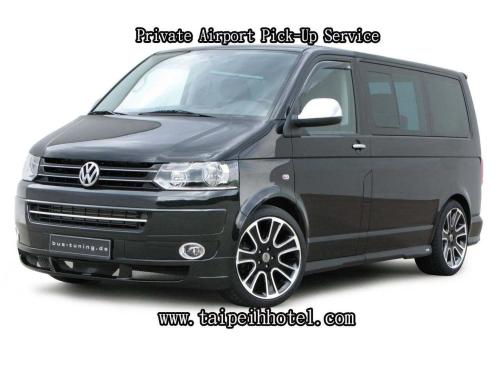 A Private Car on your way here…
The best choice for hassle free ride. Keeping your safety our first  priority.
ON TIME.  CONVENIENT.  AMAZING.
Price List:
1-4 persons - 1500NT - Toyota Wish Hotel Car
5-7 Persons - 1800NT - Volkswagen Hotel Van
Offers Details
:
Reservations is a must.
The following information has to be submitted
(Name, No. of Pax., Flight Details, Arrival Date, Arrival Time, Contact Number,)
Restriction:
Once the reservation has been confirmed, Cancellation is only accepted 3-Days before the arrival.  
Exclusive Day Tour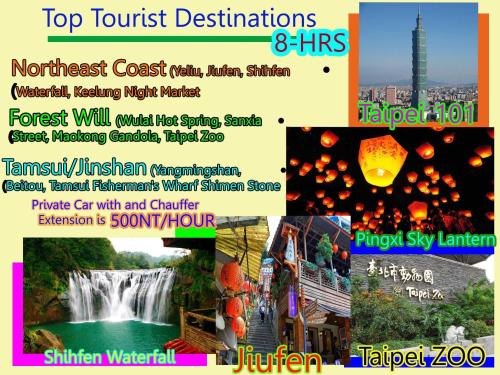 Discover. Explore. Experience the best of Taiwan
An intimate experience for the extraordinary tour exclusively arranged per request.
Set of Packages:
1 - 2 persons - 3500NT          3 - 4  persons 4000NT
5 - 7 persons - 5000NT


 Choices of Top Tourist Destinations:
Northeast Coast (Yeliu, Jiufen, Shihfen Waterfall, Keelung Night Market)
Forest Will (Wulai Hot Spring, Sanxia Street, Maokong Gandola, Taipei Zoo)
Tamsui/Jinshan (Yangmingshan, Beitou, Tamsui Fisherman's Wharf Shimen Stone)
Offers Details:
Reservations can only be make at the Front Desk Counter
Requires to settle in CASH basis only upon reservation
Requested to make the arrangement of the service at least 1-day in advance.
It's a Private Car with an awesome Chauffer. The Tour is good for 8-HOURS, extension beyond the allotted time will automatically be charged of 500NT/HOUR.

*Further details can be discuss in the counter upon making the reservation.
Pocket WIFI Device